HOLIDAY HEAVEN
ISBN 0-7860-1278-1
Pinnacle Encanto October 2001




Just Say Yes


Dr. Marcos Calderon needs a faux fiancee--and fast! His beloved Abuelita Coqui is arriving on the next flight from Venezuela and she's sure he's engaged. Marcos just can't disappoint the old lady. But first he 'll have to find woman his abuelita will approve of. A demure social worker like Gabriela Morales should do--although tonight she looks anything but demure in that sexy, slit-up-to-here evening gown. In fact, she's stunningly beautiful. Persuading her to agree to his outrageous proposal is going to be fun...

Gabriela wishes she hadn't let her best friend talk her into volunteering for the hospital's charity auction, even if it is for a good cause. And she must be hearing things. Did that handsome doctor just bid ten thousand dollars for a date with her? Apparently he did. Exactly what the man has in mind is a mystery, but Gabriela is ready for romance. And judging by the look in his eyes, so is Marcos...

***** Victoria Marquez has written the most outstanding Encanto I have ever read! I loved seeing Marisol (from her last book WILD FOR YOU) again. It made the story more real! I had been hoping her over-protective brother would get his own book. And man-oh-man, did Victoria Marquez deliver! Full of humor and romance with a grandmother's touch! Highly recommended reading here! *****
Detra Fitch, Huntress Book Reviews
http://www.huntressreviews.com

============================================================

WILD FOR YOU
ISBN 0-7860-1219-6
Pinnacle Encanto April 2001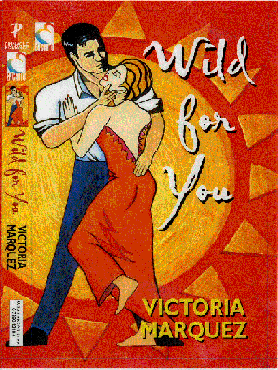 To Love, Honor, and Protect

Clay Blackthorne figures he'll have his work cut out for him when he promises to keep an eye on an old college pal's sister without letting her know what he's up to. The level-headed detective never dreams that sassy beautician Marisol Calderon will knock him off his feet--and down the aisle. It's merely a marriage of convenience, but the honeymoon sure feels authentic to Clay...

Happy-go-lucky Marisol has a mind of her own-- and it's set on putting a dent in Clay's solemn demeanor. But the fun swiftly turns to fear when a shadowy stalker becomes determined to make Marisol his bride. Temporarily becoming Clay's wife seems like a safe way to thwart his plan. But when she stumbles across her new husband's true identity, Marisol finds herself wondering who--if anyone--she can trust...

"The love story of Clay and Marisol was simply wonderful!" Four Stars
Debbie Sims, Romantic Times Magazine

"Wow, the story is a sizzler! There are so many colorful characters in this book that it is impossible to put down."
Suzanne Scoleburn, The Belles and Beaux of Romance


============================================================

HOT AND BOTHERED
St. Martin's Press Summer Anthology
Available July 2001
ISBN 0-312-97968-1

Four steamy tales of love and seduction by
Lori Foster * Laura Bradley * Gayle Callen * Victoria Marquez

"When summer reaches its peak, temperatures rise..."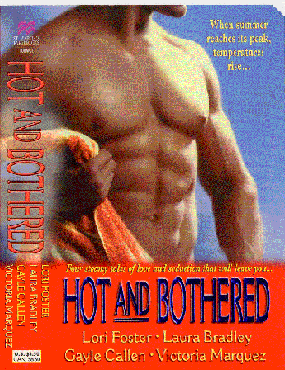 Treading Dangerous Waters
by Victoria Marquez

Sofia's plans to relax on a cruise are ruined when she encounters James, her aunt's future son-in-law, who is intent on breaking up his father's wedding...unless Sofia can distract him. But she's treading dangerous waters, for James has designs of his own, which include seducing the Latina beauty until she surrenders completely to him.

Four Stars
"Author Victoria Marquez offers a humorous and sexy tale in "Treading Dangerous Waters." Romantic Times Magazine

"Sizzling sexual tension fills the pages of this romance on the high seas. For a fast read try TREADING DANGEROUS WATERS."
Terrie Figueroa Romance Reviews Today

"The four tales are quite different occurring in radically diverse settings. Yet each contains a sexy hunk, a gorgeous female protagonist, tons of torrid passion, and entertaining plots that are well written. HOT AND BOTHERED lives up to its title as each contribution seduces the reader." -- Harriet Klausner